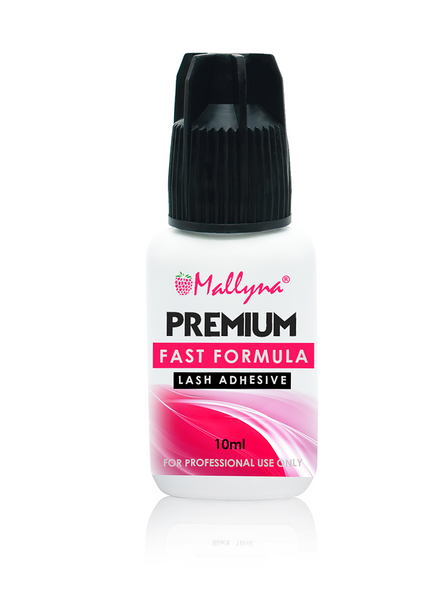 PREMIUM GLUE FOR EYELASH EXTENSIONS (10ML)
Tired of waiting for your glue to dry?  We were too, and after countless hours of research, we have this extra strong, fast drying eyelash glue.  This glue is perfect for professional lash artists, its fast drying qualities allow you to complete your job in less time; thin consistency makes it easy to apply and it has a natural glossy black finish.  Overall, this glue allows you to get more done in a shorter period of time.  It also provides a longer stay period, allowing your client longer periods between visits.  
Super-Fast Drying – (0.5-1 second)

Long Lasting & 

Extra Strong Adhesive
Long stay period, 5-7 weeks
Ideal for Volume & Classic Technique
Low Fume
Thin consistency easy to work with
Glossy Black finish
Use only after patch test

Ideal Temperature: 70-78 degrees Fahrenheit

Ideal Humidity: 50-70% RH (Relative humidity)

For professional use only
Add to wishlist
Best retention from Mallyna glues
Hiii to all of my lash sisters! And would love to leave not only 5 star but beyond that review
Mallyna is the veteran of our lovely industry. Badass business woman, check her business classes and her products are amazing. My colleague was raving abt her glue and I've tried her Premium. Fast drying, not too much of fumes which is good even for sensitive clients and of course amazing retention. I bought her primer and also glue accelerator for her other glue which I'm going to try for sure soon. Now my new obsession is definitely her Premium one. My clients are happy which means more referrals and more money. You make me happy Mallyna! I love your honesty and love your products. Next I'll try her lashes for sure. Much love to all of my colleagues from Beverly Hills !!!
Great adhesive!
My absolutely favorite adhesive!
Glue
This is the best glue I have got
Best
Best Glue at Great Price!
I love this glue
This glue is my favorite!!!! Easy to work with.